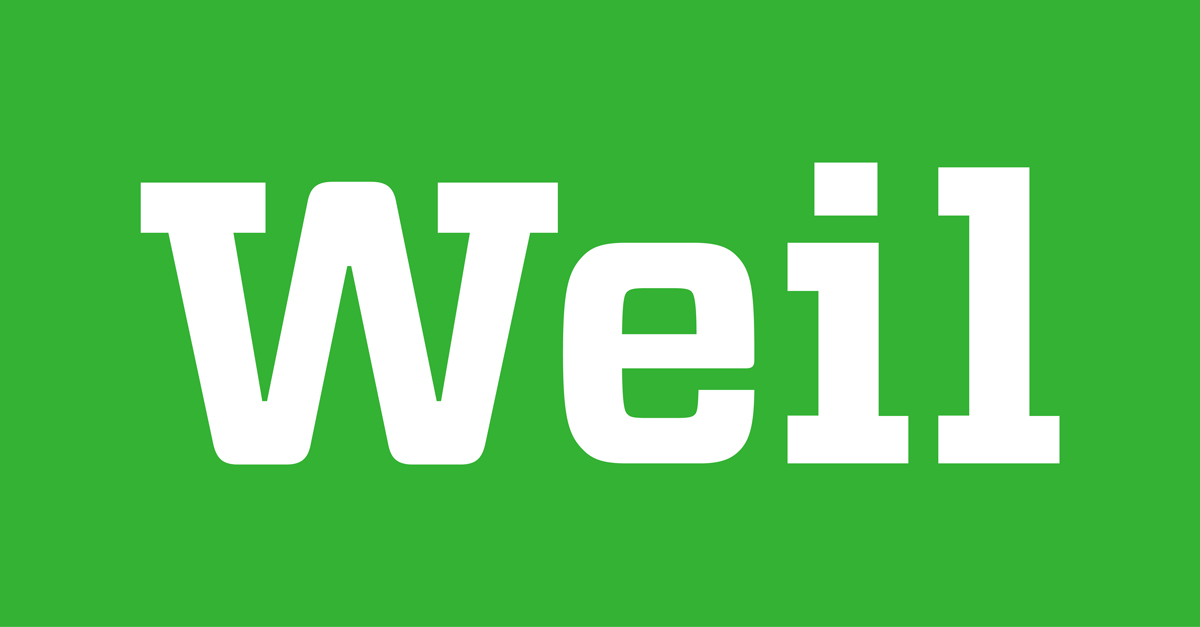 Weil creates a bespoke ESG program in partnership with Oxford University's Saïd Business School
LONDON, May 18, 2022: International law firm Weil, Gotshal & Manges LLP is working with Oxford University's Saïd Business School to create a specialist ESG-focused training program for its London-based lawyers to build on Weil's extensive experience in the ESG space and further equip Weil's attorneys with the latest thought leadership and advisory skills to help guide clients through the dynamic ESG landscape.
The specially designed program will cover the role of ESG in investing, reporting and measurement, ESG-related finance, sustainable finance and future trends affecting all areas of our clients' businesses.
Commenting on the programme, Weil Executive Partner Barry Wolf said: "We are delighted to be working with Saïd Business School to create a bespoke ESG training program for our lawyers in the London office. Each module has been carefully designed to ensure that our bespoke approach is aligned with the ever-growing needs of our clients in this critical area.
"Collaborate with a world-renowned business school such as Oxford Said to provide thought leadership and training that draws on Oxford University's research and programs in social finance and corporate investing. "Impact will enable our participating lawyers to help guide our clients through the opportunities and challenges presented by ESG in all aspects of their business," added Michael Francies, Managing Partner of Weil's London office.
Trang Chu, Program Director of the ESG Sustainability Program and Research Associate at Oxford Said, said: "For us at Said Business School, sustainable business is key to meeting the challenge of climate change and key to building a new sustainable, regenerative and just economic system. . We are pleased to be an academic partner of Weil and to support its professionals in developing their expertise on the sustainability issues most important to their clients in all aspects of their practice. We look forward to our partnership with Weil as they invest to support their customers in their efforts towards a sustainable future; a key objective for our Executive Education at Oxford as well.
###
Notes to editors:
Weil's recent ESG experience includes:

Advice on setting up a number of climate, impact and sustainability funds;
Acted for a number of private equity clients and their portfolio companies in conducting anti-corruption, anti-money laundering and sanctions reviews in connection with proposed acquisitions;
Assisting a number of different clients in drafting ESG codes of conduct and developing ESG policies and practices;
Advise a number of private equity clients on contractual mechanisms and dispute resolution clauses to mitigate future ESG-related risks;
Development of tailor-made CLO investment criteria and ESG provisions;
Advise fund managers at the operational level on the integration of investment criteria into the investment selection process and compliance with ESG obligations of the side letter and/or the LPA; and
Advising fund managers at fund and portfolio level on "green" financing solutions and compliance with ESG criteria related to borrowing.

Weil London's pro bono relationship with Business Schools for Climate Leadership (BS4CL):

A coalition of leading business schools, including Oxford Said, across Europe creating an alliance on training, research and operations to tackle climate change. At COP26 in November 2021, BS4CL launched a toolkit of webinars and resources, aimed at its 400,000 alumni in 80 countries, to help businesses be better equipped for the transition to net zero. The Weil Antitrust team works with BS4CL to provide advice on the dynamics between competition law and industry-wide collaborations on setting carbon targets and standards.
About Weill
Founded in 1931, Weil, Gotshal & Manges LLP has been a preeminent provider of legal services for over 90 years. With approximately 1,100 lawyers in offices on three continents, Weil was a pioneer in establishing a geographic footprint that allowed the firm to partner with clients wherever they practice. The firm's four departments, Corporate, Litigation, Restructuring & Tax, Executive Compensation & Benefits, and more than two dozen practice groups are consistently recognized as leaders in their respective fields.
About Saïd Business School, University of Oxford
Saïd Business School at the University of Oxford combines the best of new and old, a young, dynamic and entrepreneurial business school with deep roots in the most prestigious university in the world. The University provides cutting-edge education and groundbreaking research that transforms individuals, organizations, business practices, and society. Oxford Said offers leaders and organizations a place to grow – to step back from the intensity of day-to-day operations and to think about the future. They create tailored learning solutions that deliver lasting value. Working closely with partners, co-create tailored programs that inspire teams, empower organizations, drive progress in business and society, and collectively address today's greatest challenges. Executive Education at Oxford Said ensures that learning translates into action by providing educational experiences that have a meaningful impact on individuals and their organisations.