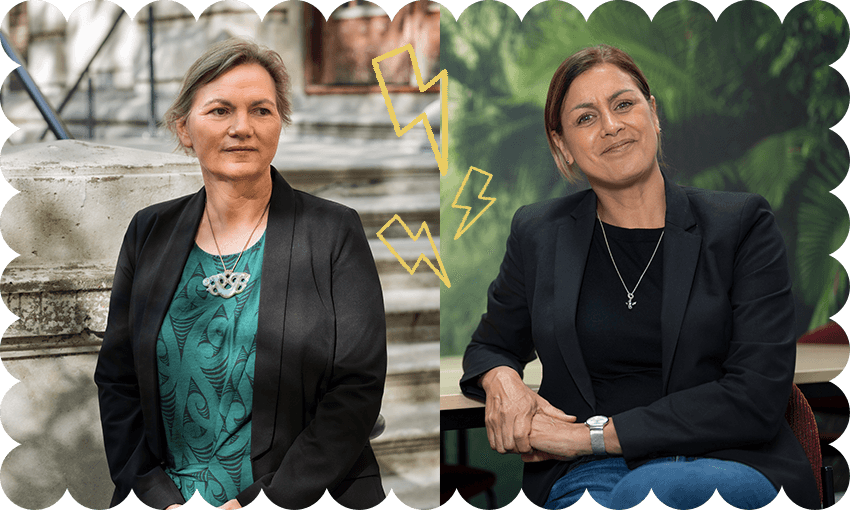 The Māori wāhine transforms a medical institution
In December, the University of Otago appointed its first Wahine Maori Dean, and a few months later, its second. We asked Professors Suzanne Pitama and Joanne Baxter what this means for them, the university and Aotearoa.
When published in 2019, the study Why isn't my teacher Maori? revealed that Maori made up just 5% of New Zealand's total university workforce between 2012 and 2017. And that number wasn't growing. The research criticized universities' diversity policies for having little impact on representation and questioned their desire to build a "sustainable Maori university workforce" and their level of commitment to Te Tiriti o Waitangi . And the lack of Māori academic staff means that mātauranga Māori have struggled to find a place in the course curriculum.
Perhaps that's why, when two dean positions became vacant last year, Professors Jo Baxter and Suzanne Pitama weren't going to apply initially, despite their qualifications. Together, the couple have over 40 years of academic experience in many roles within Maori health academia, and both are well-known figures in medical circles for their strong advocacy for Maori equity. in health, public health and patient outcomes.
When Pitama was appointed as Dean and Campus Leader of the University of Otago's Christchurch Campus in December 2021, she became the first Wahine Maori Dean of any medical school in Otago. She says she was encouraged to apply by colleagues who had seen her leadership skills develop since she started as a lecturer at Otago in 2001.
"I hadn't really seen myself in that position. I never imagined that was my future," she says. "It was peers saying, 'you should go, this is something you should do'. In a big institution where there aren't many Maori, it's quite overwhelming to have so much non-Maori support.
Another milestone came months later when Baxter, a specialist in public health medicine, was appointed dean of the Dunedin School of Medicine in February. Baxter says it was also this peer support that encouraged her to apply for the job.
"I was approached by several medical school staff who told me they would strongly support my candidacy and I felt like I was heading into safe territory. And that the people I would direct were excited for me in the role," she says.
They have both previously held Maori Associate Dean positions in their respective schools, and Baxter and Pitama have experience in Maori leadership in Maori-specific spaces. Now they want to see Māori leadership and mātauranga translated into broader roles.
"It's the first time in some time my role is not specific to Maori," says Baxter. "I think now is a really good time to have broad leadership expertise, including skills on how to implement pro-equity, pro-treaty and anti-racism strategies, goals and objectives."
She says those strategies that have been ingrained in her work as Māori Associate Dean – championing tikanga, manaakitanga, kaitiakitanga, equity – are equally important in her new role. She believes these qualities are essential for anyone involved in addressing inequality in Aotearoa.
"It's about figuring out what leadership looks like in this space. I happen to be Maori and have that expertise, but I think all leaders should now be able to lead on equity, treaties, anti-racism and cultural safety.
Pitama agrees – that kaupapa has not changed between her role as Māori associate dean and her new role as dean of the Christchurch campus. Today, the experience she gained working to improve Maori health outcomes is applied across the medical school.
"What I hope is that the equity and social justice approach that Jo and I have used consistently throughout our academic careers will help transform and make medical school more inclusive. , more diverse and more supportive of equitable opportunities for all of our staff and students, as well as patient outcomes," says Pitama.
Their appointments signal a gradual change in the styles of leadership that are valued in our universities and in society at large. They believe their appointments are a commitment by the University of Otago that tikanga and mātauranga Māori are recognized and respected.
"It's one of the oldest universities in the country, but it wants to be at the forefront of creating change. Otherwise, I just don't think it would have employed us, we're way too bright," says Pitama. "If you wanted to keep the status quo, you wouldn't have put us in these positions."
After years of being a very vocal figure in college, Pitama had come to believe that she wouldn't be cast in a high-profile role, especially one where she had more of a platform than ever. She believes her promotion points the direction of change for the university toward a more equitable curriculum, grounded in social justice.
"They knew what they were getting when they appointed us. We have not been silent on the sides in the last 20 years that we have worked in universities," she says.
This change is gaining momentum across the country. In 2021, Khylee Quince was appointed Dean of Law at AUT, becoming New Zealand's first Maori Dean. But these nominations represent more than just opportunities for these individual women, Baxter says. She wants other young Maori and women to see them leading from the top.
"It's super important for our communities and our youth to see us in these roles. And, to me, it's a little shocking that there have been so few Maori in these leadership roles, but it's also a little shocking that there are so few women.
Pitama and Baxter want to use their positions to build a culturally competent health workforce, for Maori, for women and for all those who have been less represented in medicine in New Zealand. Baxter says leading the school is an opportunity to create a safe environment for students, colleagues and patient outcomes to flourish.
"One of the things I think we bring is optimism that things can be different, and that we have to persist, we have to build on our strengths. Then how do we create space, so that the strengths of young people that arise can be harnessed, so that they can work to solve some of the equity challenges that we face?"
Eru Pomare, who became the first Maori Dean of a medical school when he was appointed Principal of Wellington Medical School in 1993, inspired both women and helped them understand what they could achieve. But they want to make sure it won't be 20 years before the next Maori elders are appointed.
"I hope the legacy that Jo and I leave behind is that it will become customary to have Maori leading our medical school," says Pitama.