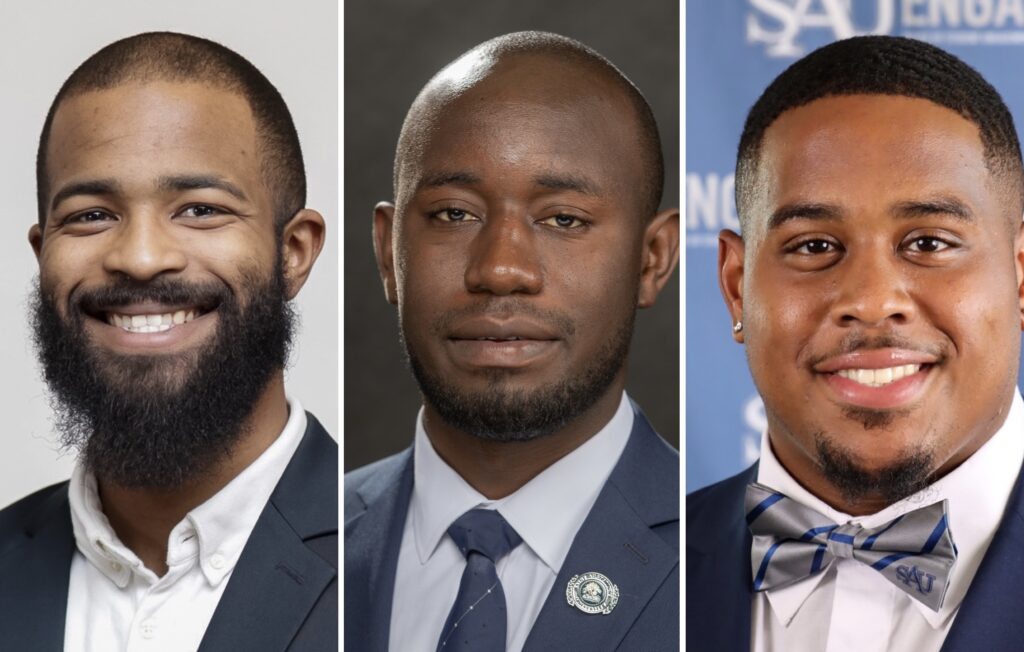 SAU Students Join Prestigious Stanford d.school University Innovation Fellowship Program
Saint Augustine University (SAU) students Kevin Collins, Marcus Davis and Peter Musenge were among 242 students from 63 higher education institutions in 16 countries named University Innovation Fellows.
"New Fellows design experiences that help all students develop the skills and mindsets needed to navigate these uncertain times and shape the future they want to see," said Leticia Britos Cavagnaro, co-director of the University Innovation Fellows program. . "They give back to their school communities, along with learning strategies that will help them become career leaders after graduation."
Collins and Davis are enrolled in the SAU Masters of Public Administration program. Musenge holds a double major in biology and engineering mathematics. They are the first of the institution University Innovation Fellows (UIF) cohorts, sponsored by the Hasso Plattner Institute of Design (d.school) at Stanford University and Google.
"Part of our challenge as university innovation fellows is to look at the needs of our campus and figure out where we can bring innovation," Collins said.
The UIF program teaches students about design-centered thinking while enabling them to become agents of change for their respective universities. Design thinking is a way to define and solve difficult challenges.
"Reinventing SAU involves empowering our student leaders to serve as co-creators of current and future student experiences," said President Dr. Christine Johnson McPhail. "The inclusion of our students in the University Innovation Fellows program aligns with our institution's mission, vision and strategic initiatives to bring diversity into innovation and entrepreneurship."
The students are planning an ambitious innovation project this fall called Falcon Fl1ght LAB. The Falcon Fl1ght LAB is a Collaboratorium and MakerSpace designed for students to engage in a facilitated environment that fosters creative problem solving and solution design. This design of space will include divergent and convergent technology-enhanced spaces for ideation and collaboration. Based on design thinking, SAU students can collaborate and conceptualize solutions to solve current university and city dilemmas from a creative perspective.
"We noticed that there was no space on campus for problem solving, idea generation/collaboration, or product prototyping using technology," Musenge said. "We believe the creation of the Falcon Fl1ght LAB merges all three areas into a single space that inspires students to solve our most pressing challenges in the community and the university."
"It's about being a change agent with the skills to make things happen," Davis said.
Terry T. Kidd, Ph.D., vice president of strategic planning, research, technology and innovation, and Veronica Creech, vice president of economic development and external engagement, lead the Falcon Fl1ght LAB, the revolutionary student-led idea that is part of the Innovation Portfolio.
"SAU applied for the UIF program in the spring of 2021," Dr. Kidd said. "Kevin, Peter and Marcus have been heavily engaged in training, webinars and coaching sessions designed to teach and develop their design thinking skills. Additionally, they have worked with Stanford University over the weekend and did their SAU homework.
The UIF program is an example of how SAU fulfills its mission. This mission ensures that students at the university will have meaningful opportunities to practice leadership and become agents of change. Collins, Davis and Musenge will attend an in-person conference for the University Innovation Fellows program at Stanford University in March. Fellows from across the country will come together to discuss their projects and network. Faculty Champions will also be on hand to support their students and strategize on how to better support them.
"As a faculty champion, I have seen firsthand their abilities to showcase their innovation and entrepreneurial skills," Dr. Kidd said. "The Falcon Fl1ght LAB proposed by the SAU is a brilliant idea since all the ideas are developed and led by the students. They are the brainchild and genius behind this project.
This Makerspace receives contributions from multiple sectors to enable a new level of engagement to develop, prototype, and test real-world solutions that emerge from the Collaboratorium.
"The Falcon Fl1ght LAB will help create a space that offers solutions to improve the campus and the surrounding community," Creech said. "The Falcon Fl1ght LAB will expose students to various design thinking principles, technologies, community members and investors. Additionally, other entrepreneurs will enrich the academic experience that prepares students for today's global society.
Click on here to learn more about the Falcon Fl1ght LAB.
About Saint Augustine University
Founded in 1867 by the Episcopal Diocese of North Carolina, Saint Augustine University's mission is to support a learning community in which students can prepare themselves academically, socially, and spiritually for leadership in a complex, diverse, and changing world. rapid evolution.
About the University Innovation Fellows Program
The University Innovation Fellows program empowers students to become agents of change in their schools. Scholars are a global community of students leading a movement to ensure that all students acquire the attitudes, skills and knowledge needed to compete in the economy of the future. These student leaders from schools across the country create new opportunities that help their peers develop an entrepreneurial spirit, build creative confidence, seize opportunities, define problems, and tackle global challenges. Fellows create spaces for innovation for students, found entrepreneurship organizations, host experiential events, and work with faculty and administrators to develop courses. They serve as advocates for lasting institutional change to university leaders and represent their schools at national events. The University Innovation Fellows are a program of the Hasso Plattner Institute of Design (d.school) at Stanford University. Learn more about collegeinnovationfellows.org.