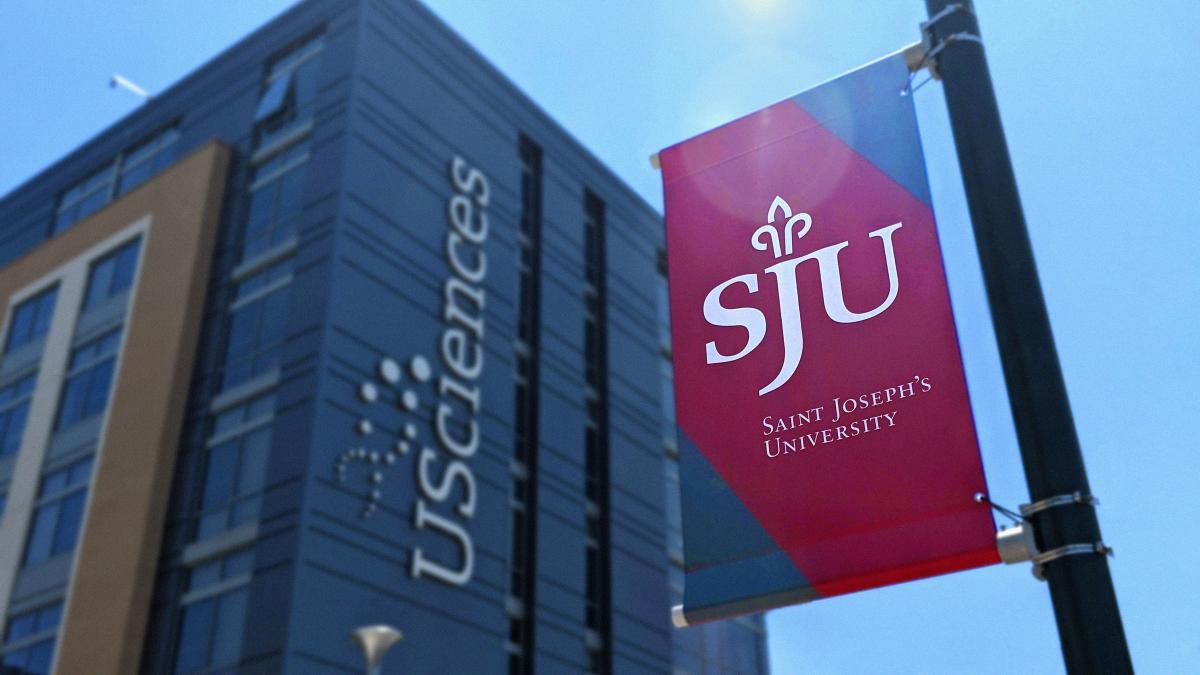 Saint Joseph's absorbs struggling institution across town
On June 1, St. Joseph's University officially merged with the University of Science, making the Crosstown campuses a single institution under the St. Joseph name.
For Saint Joseph's, absorbing the strong range of healthcare offerings at the University of Science allows for immediate expansion of academic programs, building on the expertise of faculty members already on campus.
For the University of Science, the agreement provides continuity for students despite financial difficulties in recent years that led Fitch Ratings and Moody's Investors Service to downgrade the institution as its endowment funding dwindled.
Now, the two Philadelphia campuses share a common mission. Saint Joseph's officials believe such mergers could become the new normal as higher education institutions face a number of challenges.
The right fit
Mark Reed, president of Saint Joseph's, said the university's strategic plan includes seeking opportunities to expand its academic portfolio, which made the merger an attractive option.
"Now we do that — like any institution would — normally through incremental changes, responding to market needs, etc.," Reed said. "But we've also been very clear in our strategic plan, given where we're located in Philadelphia, given the region, given the number of institutions, that there could be opportunities to do something more big and bolder, like a merger or acquisition. "
No money changed hands to facilitate the merger, Reed noted, explaining that "St. Joseph's University is absorbing all of the assets and liabilities of the University of Science."
Saint Joseph's, a Jesuit college established in 1851, has a rich history as a liberal arts institution. The University of Science has long focused on health professions. Founded in 1821, the University of Science housed the first school of pharmacy in the United States. Saint Joseph has over 6,500 students, while the University of Science had about 2,000.
While Saint Joseph already had health-related programs, including various majors and an Autism Education and Support Center, it did not have a health professions college. Now it does, with established and accredited programs in fields like physiotherapy, pharmacy, and others.
Reed said there is also potential for new programs or cross-disciplinary growth.
But there was a degree of overlap between the two colleges – redundancies in some areas. An example is athletics. Saint Joseph's has a Division I athletics program, while the University of Science competed at the Division II level. Unable to operate multiple athletic departments at varying levels of NCAA competition, Saint Joseph's terminated the Division II program.
"It would be impossible not to have some redundancy, given that the two institutions were complete institutions, from top to bottom. So we've had some attrition, both in terms of academic staff and administrative staff," Reed explained.
Saint Joseph's retained 140 of 170 faculty members, offering severance pay to those who were terminated. And some employees chose not to join Saint Joseph because he took over the University of Sciences. Staffing decisions are still ongoing, with a number of moves to be sorted out over the summer.
Beyond attrition, there have also been cultural clashes to navigate.
Prior to the completion of the merger, some University of Science students expressed dismay to local media that they could not obtain birth control from Saint Joseph's, a Catholic institution. The University of Science said via email in late April: "Effective 01/06/2022, Student Health will no longer be permitted to prescribe or dispense birth control pills, any type of birth control or condoms once we merge with SJU," the announcement read in part. "This is in accordance with Catholic doctrine which they strictly adhere to."
But access to birth control seems to be a matter of organization and not of doctrine.
"Today's Saint Joseph students can access birth control, so tomorrow's Saint Joseph University students can access birth control. The university doesn't distribute it, we don't distribute it from a campus pharmacy – we don't have a campus pharmacy," Reed said, adding that Saint Joseph's does not restrict access to drug screening. births, which is covered by health insurance schemes. .
The future of mergers
As Saint Joseph navigates a new arrangement, it will do so with a new interim president in Cheryl McConnell, who is currently provost and vice president for academic affairs.
"This is an example of a merger/acquisition that is going to become much more common in higher education," McConnell said. "We all know that smaller, specialist establishments will continue to struggle. But it wasn't a merger of a university that was about to close, and it's kind of unique in that sense. I think it will become much more pervasive in higher education in the future. And I think the path we've charted here can be useful for other institutions that are considering the same thing.
Reed, who leaves in August to take over as head of Loyola University Chicago, supports the idea that this type of merger will become more common in higher education in the years to come. He encourages universities to be open to such opportunities for expansion when they arise.
David King, a management professor at Florida State University who studies mergers and acquisitions, notes some of the same benefits that Saint Joseph officials pointed out. This type of merger, he explained, offers the advantage of immediately adding new university programs.
"The main benefit of acquisition is speed, or they immediately deliver existing capabilities. Universities in similar locations typically differentiate themselves, so buying a local competitor can combine complementary programs. Building a new academic program takes at least two years to hire qualified faculty, design courses, and get them accredited," King wrote via email. "All of this can be avoided by adding established curricula."
While often beneficial, mergers can also be risky, King said, noting that "most risk arises during integration," when two organizations become one. Common challenges include turnover and the additional risks of managing unknown programs.
Mergers can provide complementary college programs, some cost savings and some stability for absorbed college students, explained John MacIntosh, managing partner of SeaChange Capital Partners (and a Inside Higher Education opinion contributor), which manages the Transformational Partnership Fund established by a number of higher education organizations to help colleges explore options for collaboration.
But mergers can also be difficult to manage and even to succeed. For example, Marymount California University announced in April that it would close after a failed attempt to merge with Saint Leo University. And even successful mergers can be painful for those involved. When struggling Mills College announced it would merge with Northeastern University, groups of alumni of Mills, a women's college, launched an unsuccessful legal battle, questioning the merger.
"I think what makes these discussions often difficult is that there are so many voters [students, faculty, staff, trustees, local community] who rightly, even though they have the same set of facts, may not see things the same way," MacIntosh said. "The idea that all of these groups are going to be excited about a particular partnership is unrealistic."
But risks aside, MacIntosh said mergers are something colleges should remain open to, particularly if market forces, such as enrollment issues related to demographics or other factors, put colleges in a position where they have to choose between merging or closing.
Beyond the shrinking pool of students attending college and therefore shrinking tuition income, King notes that shrinking endowments and shrinking donations will exacerbate financial pressures.
Predicting college closings is a "game of fools," MacIntosh said, but given trends in higher education, especially for smaller private colleges, leaders need to think ahead.
"I think the fact is that a significant percentage of small private colleges do not see their current situation as sustainable in the medium term. It doesn't mean they're all going to go bankrupt, it doesn't mean they're going to merge, but I think a significant percentage of small private colleges don't see the way they're currently set up as sustainable, financially or programmatically said MacIntosh. "If you're running a small private college, you should think very seriously about the current environment and think creatively about your options."