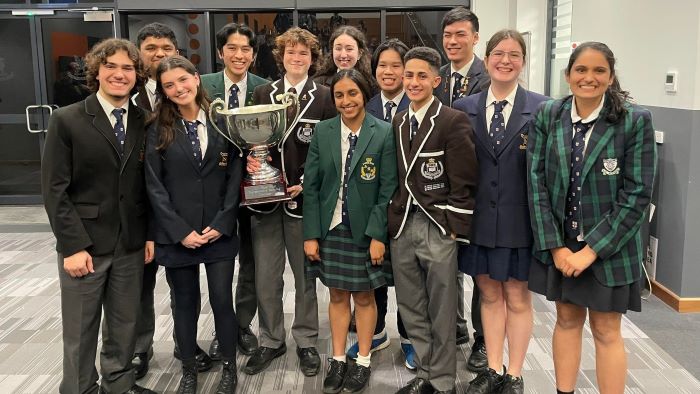 Public School Debaters Are Talking About Themselves
Public school debaters have shown they can lead by example after winning the prestigious NSW Representative Debating Challenge
It is the first time since 2016 that the NSW Combined High Schools (NSWCHS) team has won the competition which brings together teams from the public, Catholic and independent sectors.
The arts unit's public speaking competitions manager, Justine Clarke, said last month's win was a fabulous effort, with all three teams essential to securing victory.
Sixteen Year 11 and Year 12 students from comprehensive and selective schools in Sydney, Newcastle and Illawarra made up the three teams.
Ms Clarke said the students practiced weekly online throughout Term 3 and only practiced together in person the weekend before the competition began.
"It's a huge commitment of time from both students and coaches, and it was great to see schools like Rooty Hill – who had a fantastic year in inter-school competition – represented in the final squad," she said.
The competition took place over three days at different locations. The first, second and third debates were held simultaneously at a host school with all teams taking part in the final round of debates at Newington College in Sydney, so that everyone could be present for the announcement of the winning team.
Ms Clarke said the championship was decided on a points system, with a first victory worth more points than a third.
The final results saw the first NSWCHS win two debates, the second and the third ones wiped the slate clean by winning all three of their debates.
"It was incredibly close, and we managed to win the championship by two points – so each of our second and third wins was critical," she said.
Ms. Clarke paid tribute to the team's coaches, who were former public school debaters and now college students.
"It's wonderful to see our debating alumni still engaged in public school debates, mentoring the next generation," Ms. Clarke said.
The combined high school team was: Dylan Adams (Caringbah HS),
Abrar Chowdhury, Archie Wolifson and Timothy Hanna (Sydney Boys HS),
Emily Condell and Ava Roberts (Smiths Hill HS), Darshanik Aryal, Iqra Razzak and Alisha Gugnani (James Ruse Agricultural HS), Neva Mikulic and Anna Kremer (Sydney Girls HS), Andrew Doan (Rooty Hill HS), Joel Gaynor (North Sydney Boys HS), Aryana Arora (North Sydney Girls HS), Amy De Malmanche (Merewether HS) and Alexia Rigoni (Cammeraygal HS).