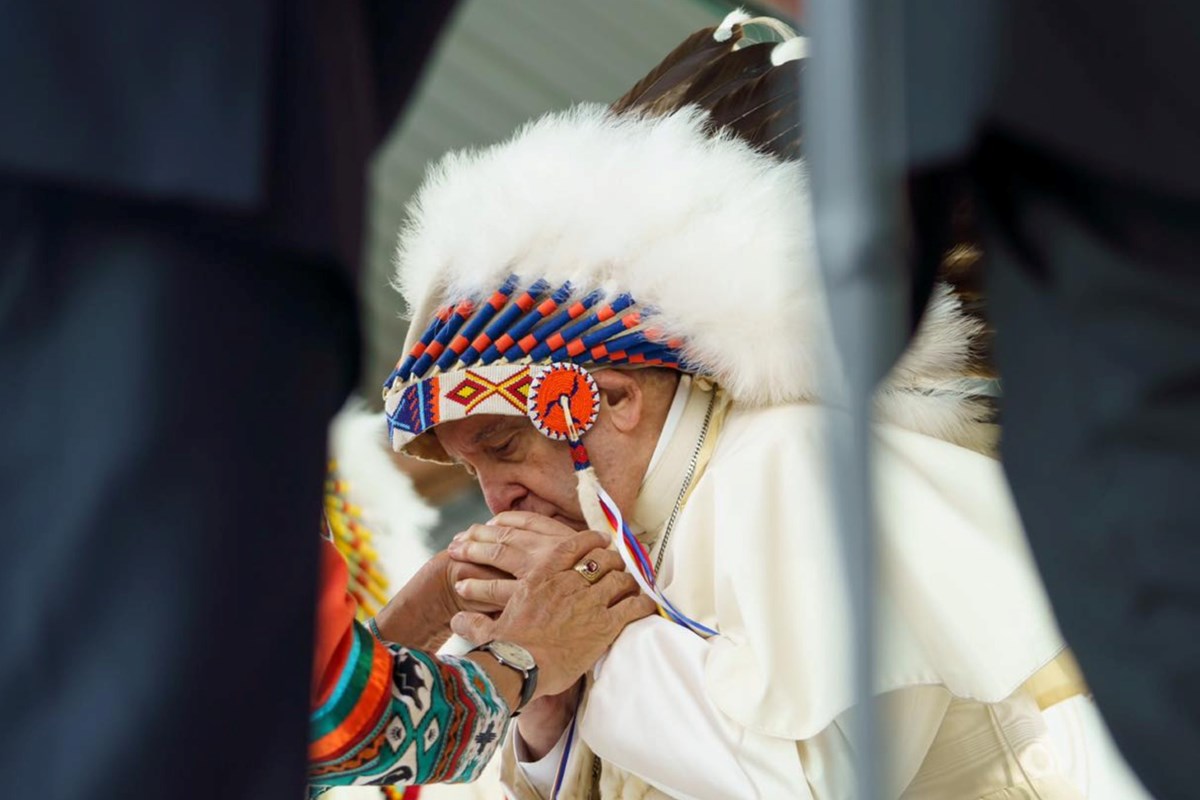 MPP: Pope offers 'words of well-being from a colonial institution'
Kiiwetinoong MP Sol Mamakwa attended the Pope's apology ceremony and said that while he found words failed others did not, and he hoped it would be a catalyst for healing.
Kiiwetinoong MLA Sol Mamakwa sat alongside NDP Leader Jagmeet Singh on July 25 on the grounds of the former Ermineskin Indian Residential School in the community of Maskwacis, Alberta, listening to the words of the pope as he spoke of the "deplorable evil" that was visited upon First Nations, Métis and Inuit in residential schools.
Mamakwa told Sudbury.com after the event that many of them needed to hear those words, but for him they were somewhat empty.
"Good colonial institutions talk like that," he said. "Feel good language.
But he also saw the effect the pope's words had on the crowd, on people who needed to hear an apology.
"When he asked for forgiveness, it was so heavy. I could feel the emotions of people around us, I could see people holding each other, I could see people crying together, that's what they needed to hear to begin their healing journey.
The pope is visiting Canada as part of his "penitential pilgrimage," as he called it. After his Monday appearance in Maskwacis, the pope left for Quebec on July 27, where he will meet with Governor General Mary Simon and Prime Minister Justin Trudeau at the Citadelle of Quebec.
He will also hold mass at the National Shrine of Sainte-Anne de Beaupré the next day before meeting with an Aboriginal delegation from Quebec. He will then fly to Iqaluit on July 29, where he will meet privately with residential school survivors before attending a public community event hosted by Inuit leaders.
During his appearance in Maskwacis, the pope expressed his "sadness, indignation and shame". He also issued an apology to the children who attended the schools.
"I am deeply sorry," the pope said, "I am sorry and I ask for forgiveness."
"We've heard time and time again that as Indigenous people, governments will do this, institutions will – acknowledging the oppression, but not the colonial policies that continue to be in place," Mamakwa said in Sudbury. .com. "He talked about some of the abuse, but he never acknowledged the sexual abuse. He didn't apologize on behalf of the whole Catholic Church, he never talked about the doctrine of discovery.
Mamakwa attended the event to deliver a birchbark scroll, signed by residential school survivors, including himself, calling for the repeal of the so-called Doctrine of Discovery.
The Doctrine of Discovery stems from a series of papal bulls (formal statements by the pope) and expansions, originating in the 1400s. It made it legal for explorers to claim land for their monarchs who felt they could exploit the resources of land, regardless of the original inhabitants.
Although he said the event was too strictly planned for him to have a meeting with the pope, and that the event featured heavily armed security guards, drones and helicopters, he passed the scroll to the indigenous leaders to pass it on.
"There are a large number of Native people across the country who expected some sort of repudiation of the Doctrine of Discovery, but it never happened."
Mamakwa said it shows him the true heart of the church.
"That's where they are," he said. "I mean, he talked about serious investigations into what the churches did to the students, but we already did that, and then nothing happened."
He said there was also the issue of records regarding schools that the church still holds, as well as "sacred objects" that are still held and often displayed by the church.
Mamakwa says he thinks the global message will be a catalyst for healing, but notes there has been a lack of real action.
It was a message echoed by Indigneous lawyer and former senator, Murray Sinclair. Sinclair is Anishnawbe from Peguis First Nation and Chair of the Indian Residential Schools Truth and Reconciliation Commission from 2009-2015. abuse them, you must take action to help them recover and pledge never to do this again.
There were also several emotional moments during the event, Mamakwa said, and not all of them were planned. After donating a headdress to the pope, an honor reserved only for those who earn each eagle feather that makes up the crown, Mamakwa said a woman, later identified as Si Pih Ko, immediately stood up when the headdress was placed on the pope's head. , and began a distressed and moving chant of what many thought was the national anthem, but was (according to Global News reports) actually "Our Village" (Ka ka na Tak) sung in an older dialect of the language of the Four Winds. When she finished, she started talking directly to Pope Francis.
"'You hereby receive legal notice,' she said in Cree, struggling through tears. "We, the daughters of the Great Spirit and our tribal ruler of the members of Turtle Island, cannot be compelled to any law or treaty that is not the Great Law. We have appointed chiefs in our territories, govern yourselves accordingly. Many said she also told the Pope to remove the headdress, while another man nearby shouted (as can be heard on recordings of the event) "You are a serpent, you are a snake". It was unclear whether he was speaking to the pope or to those who gave the gift.
Mamakwa said he sat a little close to her and could make out a few words from her song and speech, as her first language is Oji-Cree; but more than anything, he said he felt her anguish.
He too was shocked by the gift of the headdress given to the Pope by Wilton Littlechild, Honorary Chief of the Ermineskin First Nation, but could not comment on the appropriateness of the gift. Mamakwa is Woodland Cree and therefore not as familiar with the traditions of the Ermineskin Cree Nation.
Mamakwa also said he was shocked by the newly paved roads in a community that had none before news of the Pope's arrival was announced. The federal government is spending more than $35 million for the papal visit, including community-led activities and ceremonies, and to help with travel costs for survivors, as well as support for Indigenous communities in the three regions that the pope visits. Some $2 million is being spent interpreting the events and comments of Pope Francis into indigenous languages.
The Alberta government is also spending up to $20 million — with much of the funding going toward road improvements and infrastructure, like new paving — in Lac Ste. Anne and Maskwacis.
"I saw the paved roads. I saw the catwalks and you just shake your head," Mamakwa said. "That's how oppression works, that's how racism works. This is how these oppressive colonial institutions work. I was happy for the community, but also, there is oppression, colonialism and racism, written everywhere.
Although Mamakwa is still hopeful that this is a first step, he said it was just that, a first step.
"We cannot continue to accept trauma as a way of life for indigenous people," Mamakwa said. "We can't continue to see colonialism and we can't continue to see oppression as a way of life for the Indigenous peoples of this country. The people who promulgated the Doctrine of Discovery never treated us as human beings.
The pope will continue his tour this week and leave for the Vatican on July 29.
The Indian Residential Schools Resolution Health Support Program has a telephone helpline to help residential school survivors and their loved ones suffering from trauma invoked by the memory of past abuse. The number is 1-866-925-4419.
Jenny Lamothe is a journalist at Sudbury.com. She covers Sudbury's diverse communities, particularly vulnerable or marginalized people, including Black, Indigenous, Newcomer and Francophone communities, as well as 2SLGBTQ+ and health issues.downtown.