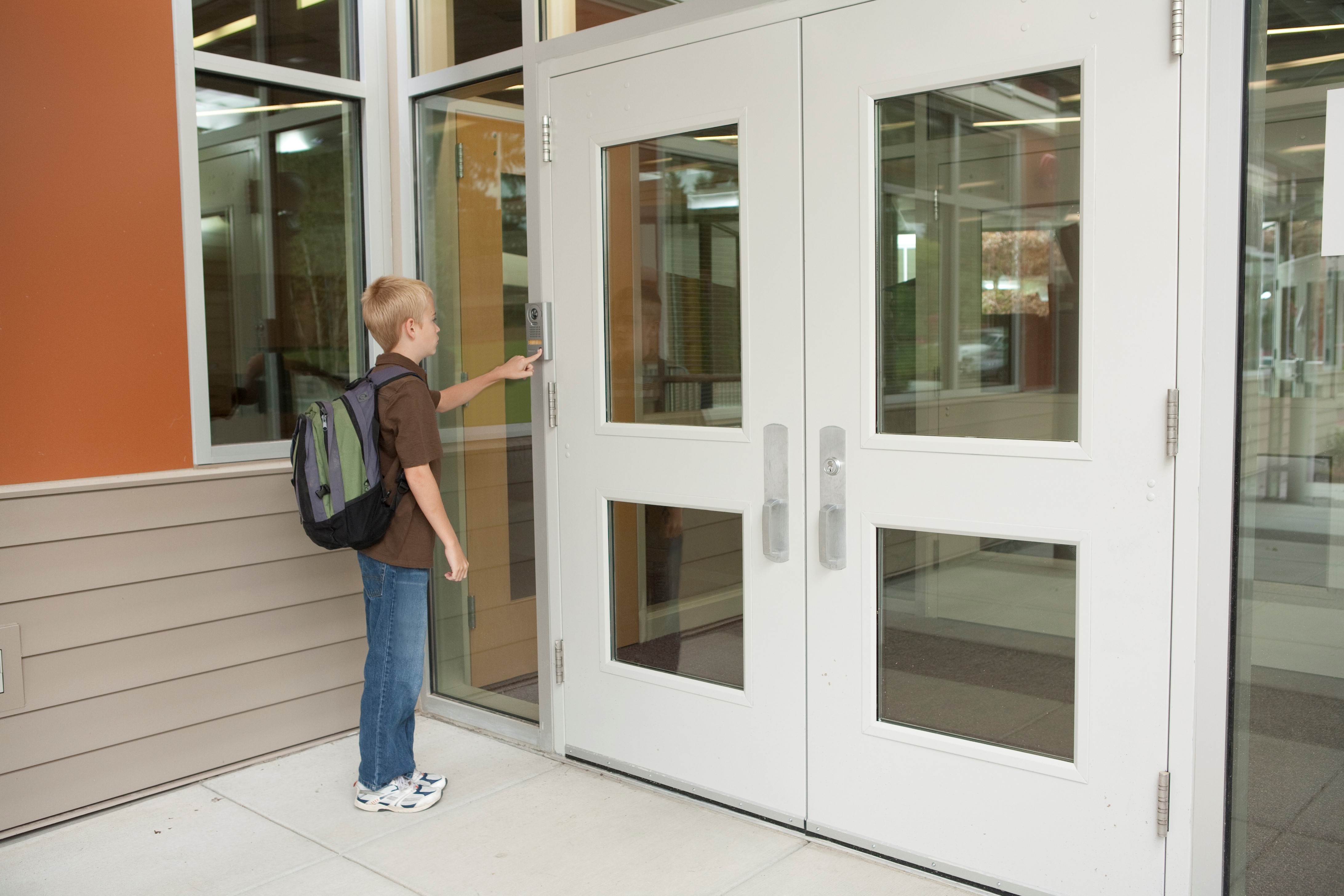 Management of school, university and hospital visitors
Video intercoms and visitor management systems can help campuses better control visitor access.
A combination of video intercoms and visitor management systems at main entrances is the most effective way to screen and identify visitors with minimal delay. Photo: Aiphone
A locked door remains one of the most effective ways to keep unauthorized visitors out of campus buildings, and it's something campus administrators keep in mind. A 2018 National Center for Education Statistics survey showed that 94% of K-12 school campuses now keep doors locked.
But locked doors also prevent parents, patients, volunteers, students, vendors and other visitors with a legitimate purpose from entering a school, university or hospital. This is a difficult challenge facing administrators: the need to improve security while meeting the needs of all stakeholders. Current security industry best practices call for a combination of video intercoms and visitor management systems at main entrances as the most effective way to screen and identify visitors with minimal delay.
There are many similarities between the three campus types, but each is different enough to rule out a unique application of the technologies. Here's a look at some of the ways schools, universities, and hospitals control their entries.
K-12 Campus Visitor Management
Often, K-12 students enter (and exit) the main building through a dedicated entrance, unlocked briefly before and after regular classes. It's a good idea to have a security guard or SRO present at these times. The main public entrance is primarily for visitors. They press a call button on an intercom door station to reach an interior master station and initiate a two-way conversation with office staff. If a visitor is approved, the master station is used to remotely open the electric door lock. The same arrangement works equally well at the delivery docks. Faculty and staff typically use a separate entrance protected by a reader or access control keypad.
Video intercoms allow office staff to monitor piggybacking, an event in which additional people attempt to sneak up behind an approved visitor. Some units also store visitor photos on micro SD cards, which can be shared with first responders in the event of an incident.
Once classes have started, intercoms can be used to admit late students or staff members who have forgotten their ID badges. Network-based video intercoms offer other handy security enhancements. Security guards can use a smartphone app to keep control of the system while on patrol. Multiple intercom systems can be monitored from a district security operations center, and staff can open a building for approved neighborhood groups using campus facilities after hours.
Vestibules have become a popular part of K-12 entryway safety best practices. Authorized visitors enter through the main entrance but then find themselves in an airlock – they cannot open a final locked door without confirming their identity using a visitor management system.
An office staff member, safely behind bulletproof glass, asks for the visitor's government-issued photo ID to browse the system. Within seconds, card data is checked against federal and state criminal databases and over 700,000 names on the National Sex Offender Registry. Campuses can add their own watchlists, including protection from abuse orders, custody issues, and the names of disgruntled former employees and students.
Once authorized, the visitor will receive a temporary badge printed with the person's name, photo, date/time and approved areas for the visit. Badges are available that automatically fade to prevent reuse. When visitors leave, they are asked to check out using the system. An up-to-date list of who is on campus at any given time can be helpful during an evacuation or other emergency.
Management of college and university visitors
It is practically impossible to lock all the doors of colleges or universities. Students access classrooms at different times, but there are still many uses for video intercoms and visitor management systems. Intercoms are ideal for managing visitors at exterior and interior entrances to administrative and faculty offices, computer and check-in rooms, laboratories, storage facilities, delivery bays and other locations.
The intercom-visitor management combination is also ideal for dormitories. Doors to halls of residence must remain locked and students using an access reader or keypad to enter. Visitors must be screened, starting with a video intercom. Resident assistants can monitor entry requests on a master station, or campuses can choose multi-tenant intercoms, which allow visitors to ring directly into resident rooms. Visitor credentials must be run through a visitor management system. Regular visitors can receive an ID card to avoid the check-in process each time they visit.
Video intercoms built into emergency towers and wall stations improve outdoor security. Topped with easy-to-spot blue lights, these units directly connect a person in distress to campus security or the police. Dispatchers use two-way communication capabilities and cameras to help make response decisions. As calls come in, dispatchers know the precise location of the station.
A station or tower arm allows the addition of a second IP security camera for a wider view, while an infrared camera can provide images even in very low light conditions. A non-emergency button is available for people who need directions or other basic campus information. Towers and stations can also be used to broadcast emergency notifications. Stations are typically placed along pedestrian walkways, in parking lots, and around the perimeters of dormitories and recreation centers. Best practice calls for keeping two stations within sight of any location on campus, as the closest option is not always the best choice in an emergency.
Management of visitors to healthcare establishments
A modern medical center is more than just a hospital. Campus buildings – clinics, offices, laboratories, treatment centers and other facilities – are often connected to the hospital by walkways and tunnels creating multiple entrances to be protected. Visitors can be checked at only one unlocked public entrance for each entrance to the building. This might require multiple visitor management stations to avoid long lines. It may not be possible to staff less used entrances. The software can manage an unmanned system, while a vestibule with a locked door blocks entry to the building until the background check is completed and a security operations center agent uses an intercom video to approve the person and unlock the entrance remotely.
It is essential to prevent unauthorized visitors from gaining access to areas such as pharmacies, emergency rooms and nurseries. Color-coded badges display the areas a visitor is permitted to enter. Failure to screen visitors exposes hospitals to fines and even loss of accreditation from federal and state regulatory agencies.
Video intercoms are also useful for screening visitors who wish to be admitted to sensitive or dangerous indoor areas such as operating theaters and pharmacies. Emergency stations are useful in parking lots and along driveways; also include them in interior stairwells, elevators and tunnels.
Policies and procedures are important
On any campus – K-12, higher education, or healthcare – administrators should prepare written policies and procedures to ensure policies are followed and visitors are properly screened. Frequently remind students and staff not to open locked doors to anyone. In addition, any visitor not wearing an appropriate badge in a restricted area must be stopped and/or reported to security personnel. Campus signage helps direct visitors from the parking lots to the main entrances and explains the entry process.
In today's world, it's too dangerous to leave the exterior campus doors unlocked. Video intercoms and visitor management systems provide valuable layers of security to reduce risk while allowing visitors with a valid reason to access campus buildings.
Paul Hefty, Technical Sales and Support Engineer II for Aiphone Corp., based in Redmond, Washington. For more information, visit www.aiphone.com.