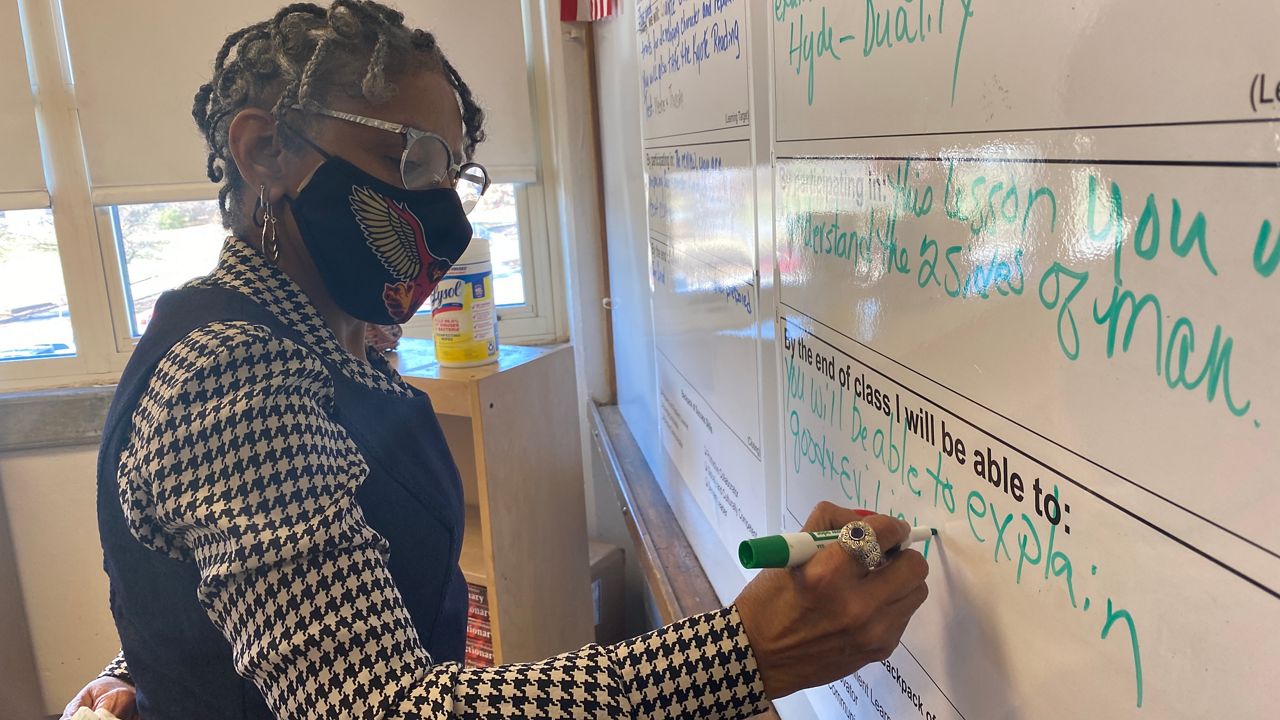 Little diversity among Kentucky public school teachers
LOUISVILLE, Ky. — Studies show that all students benefit from diversity in the classroom. Having diverse teachers promotes positive leadership and enhances classroom experiences, but some Kentucky schools have no minority teachers.
---
What do you want to know
75.3% of Kentucky public school students are white
Less than 5% of public school teachers are people of color
Having diverse teachers can benefit all students
Longtime teacher believes disrespect and low teacher salaries are why there are so few teachers of color
---
Less than 5% (2,063 of 42,304) of Kentucky public school teachers are people of color, but the number of minority students (68,799) is five times higher according to the Kentucky Department of Education. Kentucky.
This means that some students are never taught by someone who looks like them.
Seneca High School junior Janasia Bell is counting the days until she graduates just so she can get back to class.
The basketball player is on the career path of early childhood education.
The Early Childhood Education career path is also offered at Atherton and Fairdale High School. Students in the program complete an assessment and can even earn pre-professional certification.
"It's rare to find a teacher who really looks like me because most teachers aren't like me," Bell says.
She can count on one hand the number of minority teachers she has had since kindergarten.
It's a reverse narrative for Seneca High School English teacher Dr. Christine Young.
"I never had a white professor until I got to Kentucky State University because we were always apart," Young says. "When I tell my students that when we talk and I tell them they're amazed because now it's kind of the other way around, most of their teachers aren't minority."
Young says she always wanted to be a teacher. Young holds a bachelor's degree, two master's degrees and a doctorate in education.
"I can't get another degree. I guess I could, but I don't have the money. So, now I learned on my own," says Young.
The first-generation graduate launched her teaching career at Teach for America before joining Jefferson County Public Schools in 1986.
"It was unusual, it was a rude awakening because there were very few black teachers where I went. There were very few black teachers and certainly very few black students," Young says.
Dr. Young is the longest-serving black teacher at JCPS. During her nearly four-decade teaching career, she has seen an increase in diversity among students.
"Seneca is a hodgepodge of cultures, so I had to learn a lot about different cultures and I don't speak their languages, but of course they come, they try to speak English, but it's a lot of other things than just the language barrier like their holidays, how they feel about certain things, how their parents react, how they react to women, how they react to men," Young says. "I had to learn a lot. I like the idea that I get to learn about other kids and I learned through them. So I just don't teach them that they teach me.
She wishes the same was true among minority teachers and that there were more minority men in the classroom than in gymnasiums and working in maintenance and security.
"There's nothing wrong with any of this because we need it all, but I wish we could bring more men, more minority men into the teaching profession," says Young. .
She says she's not surprised that less than 5% of public school teachers in the state are minorities.
"We know that the greatest number of teachers are white women and I'm sure that's because they've always had more privilege to get an education, so it's believed that a long time ago," says Young. "Now that we as minorities have more opportunities, I think we choose other fields because we can because we can."
Young thinks the pay and lack of respect for teachers are the reason.
"When you're a minority, sometimes even if there's another spouse working, the income still isn't as good, so you kind of have to find a job where you can make more money and so I think that's another reason why we haven't is much in education," Young says. "You could write your own ticket because so many people are dropping out of the teaching profession and isn't that unfortunate Who will take care of our babies?
Passionate teachers like Young inspire students like Bell to follow in their footsteps.
Bell's grandmother, a recently retired early childhood educator, also plays a role in her goal.
"She inspired me to be the person I really am today. She always tells me to never give up and keep trying and always keep doing this, so I love her so much for that," Bell said.
Dr. Young has no plans to end his streak with JCPS just yet, so one day Bell could be his colleague.