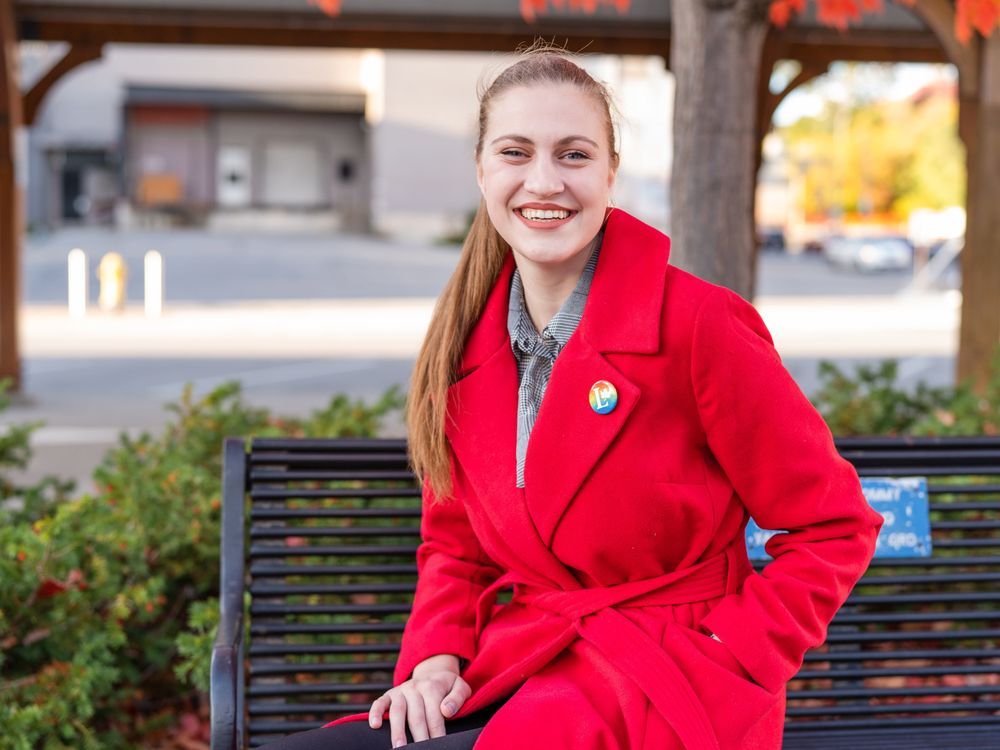 Leneveu seeks public school trustee seat after provincial loss
Content of the article
A week after her defeat as the provincial Liberal candidate, Emilie Leneveu is aiming for victory with another campaign, this time as a Belleville public school trustee.
Content of the article
Leneveu, 24, is the first official candidate for one of Belleville's two seats with the Hastings and Prince Edward District School Board.
"We really need to strengthen public education," Leneveu said in a phone interview.
"We will see maybe four more years of education cuts and I hope to be a voice at the table here locally" to oppose the cuts, she said.
Leneveu placed third in the June 2 election in Ontario ahead of Progressive Conservative incumbent Todd Smith and behind NDP newcomer Alison Kelly. The standings in the riding of Bay of Quinte reflected each party's provincial results. Leneveu had obtained an endorsement from the Ontario Secondary School Teachers' Federation.
Taking a break "was scheduled for about 72 hours," she said with a laugh.
Leneveu said her other commitments mean it's "not quite the time to jump in the ring to become a counselor", although she has been encouraged to do so. She said she knows other young people who are considering their own offers.
"We should always have the voice of young people represented in the municipal race."
She hasn't said definitively that she won't be pursuing a council seat.
"If I see a lack of representation, who knows?"
If elected as a trustee, she said, she would "amplify the voices of young people."
Leneveu attended Marc-Garneau public high school in Trenton.
A graduate of Loyalist College, she earned a Biotechnology Technician Diploma there, as well as an Advanced Biotechnology Technologist Diploma and a Graduate Certificate in Applied Cannabis Science. She is about to complete a Bachelor of Technology from Memorial University.
Content of the article
Her volunteer service includes time as a youth scholarship holder for the Association of Municipalities of Ontario, vice-president of the Belleville Youth Advisory Committee, youth advisor for the Canadian Commission for UNESCO, volleyball coach, director of the Quinte Regional Science and Technology Expo, and speaker and mental health advocate for Jack.org.
Leneveu said his desire to serve others primarily comes "from a desire to see everyone succeed regardless of their socio-economic status." She said she's also seen "gaps in services" and how people can miss opportunities when they "don't necessarily have all the tools they need to be successful."
Leneveu's contract with the Quinte Home Builders' Association ended in April; Leneveu said she was now pursuing another job.
She served as director of the Belleville Workforce Development Center and was elected president on Tuesday.
In his provincial campaign, Leneveu championed education and called for more funding for the sector and more resources for educators. She said she stood by those views, but had experience working with people of different political views and would continue to do so.
Leneveu said she, if elected as a trustee, would work to support the mental health of students and educators.
"Mental health is very important to me," she says.
She acknowledged that online learning works for some students, but said she heard from many more parents and high school students who much prefer in-class learning.
Leneveu said she favors smaller class sizes and not "overloading" educators with hybrid teaching — combining online and in-class work.
She said she wanted to make sure the school board has strong relationships and open communication with other organizations, including the MPP.