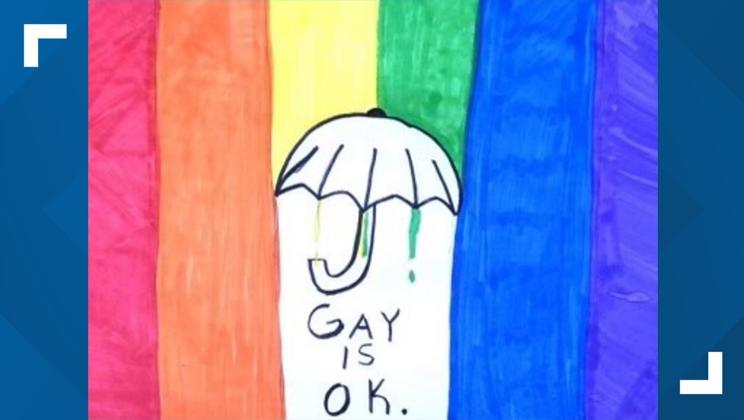 Georgia public school calls 'Gay Is OK' art a swastika, won't back down
By James Finn
See that cute rainbow poster?
A child did it, a real child whose identity is hidden to protect his privacy. Can you imagine them smiling as they bent over their markers or watercolors? They created this art, spontaneously, for inclusion in a classroom exhibit at Oglethorpe Avenue Elementary School in Athens, Georgia. I don't know why the kid felt the need to say "Gay Is OK". I don't know how old they are, if they're a boy or a girl, if they identify as LGBTQ, if an older sibling or parent does, or if it's just something they're interested in .
I bet they knew deep in their hearts that the message was needed. If they didn't, they are doing it now, just like the rest of the school. Because of the horrible thing that happened next.
The child's teacher loved the poster and hung it up with all the other student drawings. So… It's really hard to write. It's not just sad, it's… well, you decide.
Apparently one or more parents called the school to complain. An administrator asked the teacher to remove the art from the wall. They refused. They were summoned to the principal's office where two administrators order them to. A vice principal told the teacher that displaying a "Gay is Good" poster is like hanging a Nazi flag in the classroom. She literally said rainbow flags were like swastikas.
Child's art disappeared, and the whole school knew why
Who removed the art is unclear, although I was told the teacher refused. The principal ordered it, and someone obeyed him. I don't know who leaked the story to the press, but some accounts say the teacher did. If so, I wish I could buy them a beer. Reports indicate that much of Oglethorpe's faculty were outraged by homophobic censorship. As well as many parents. Some of them told reporters bigotry has long been a problem with the administrators of Oglethorpe Elementary.
Jemelleh Coes, a parent and professor at the University of Georgia, told NBC's Atlanta affiliate, WXIA-TV 11: Emerging Bilinguals, Emerging Multilinguals, and Spanish Speakers. So we have seen a trend of inequality in our school and have been asking for help at this point for years.
Children got the homophobic message loud and clear
The story caused a stir in the media. All local news affiliates picked it up; the Athens newspapers too. It even garnered national coverage. The children learned that being gay is controversial. Shameful. As bad as being a Nazi. The professionals who run their school taught them that.
I am writing today because of what happened next
This story was important a week ago, and I didn't write about it because I had nothing to add. The coverage was extensive and the events spoke for themselves. Then the other shoe fell off.
The Clarke County School District issued a vague statement on February 25, saying it supports "diversity and inclusion" and "stands with our LGBTQIA+ community," writing that it intends to "continue to have sensitive and appropriate conversations with our school communities." They didn't put the art back on the wall, however, they didn't apologize, and they didn't fire the assistant manager who compared "Gay is Good" to Nazi messages.
It's not the other shoe. This is →
The district released another statement on Tuesday, which was not reported outside the local community. They wrote kinder words about diversity and sensitivity. They even say, "We absolutely and unequivocally support our LGBTQIA+ community.
But that's a lie, and that's why I'm writing today.
The full text of the statement IS the other shoe. The District isn't going to do anything…absolutely nothing. Seriously. Nothing at all. Vice-Principal Sandra Scott made the Nazi remark. Principal Bipul Singh agreed with her that children should not see the 'Gay is Good' message. Both ordered the art removed, and they stuck to their guns.
The district will not discipline them. It's a huge part of the other shoe.
The other part is the hypocrisy of Acting Superintendent Brannon Gaskins, whose words of absolute and unequivocal support are – effectively and practically – lies. Unequivocal support would be TO START with the re-installation of the art on the wall. Would start by having a student assembly to tell the kids how deeply sorry the administrators are for sending a horrible message about LGBTQ people.
Unequivocal support would mean – at the very least – firing the woman who made the obnoxious Nazi remark, which all the kids at her school now know. Unequivocal support should mean Principal Singh would face serious discipline, possibly including dismissal.
Parents are demanding all of this and more, but all the school district has to say is that they will "continue" to be "sensitive" and "continue" to prohibit discrimination based on LGBTQ identity, even if they are actively discriminate right now keeping the art off the wall.
How can you trust school administrators with terrible backgrounds?
Remember Tyler Johnson in the photo above? I interviewed him just under a month ago when his high school principal and district superintendent refused to let him write in a school publication that he was gay and had overcome bullying. .
Tyler took to TikTok and his viral story about anti-LGBTQ discrimination in Tully, New York, touched much of the country: being gay is okay. Overcoming bullying IS something to be proud of. Silencing LGBTQ students is wrong and contrary to the human ideals that most of us try to live by. Positive representation rocks.
There's more to the story, however. Much of Tyler's community has rallied behind him, but accountability and trust remain elusive. The district administration apologized and reversed its censorship decision. The school board has hired a lawyer to investigate the censorship, but that's not the end of the story.
At least one Tully broadcaster has openly mocked Tyler, and his friends are deeply concerned about the school district's lack of transparency. They tell me they want accountability and positive change, but they don't believe Superintendent Robert J. Hughes and Director Mike O'Brien can deliver it.
They say both men have a long history of discrimination against LGBTQ students and members of other minorities. They say neither man, in light of what happened, is trustworthy.
How do you trust school administrators who lie?
Critically, Principal O'Brien lied to Tyler and his mother Pamela Johnson separately and more than once, telling them that a district policy prohibited mentioning "sexuality, orientation, religion or illegal drugs" in the publication in which Tyler was supposed to appear. The Board of Education later admitted that such a policy did not exist and that if it did, it would violate New York State education law.
It's possible that O'Brien thought he was telling the truth, but if so, then Hughes lied to him about an illegal policy that didn't exist. Neither man addressed the issue of veracity, and (curiously) local media did not ask which of them lied or if both did.
Tyler's supporters in Tully ask how they can be expected to believe anything either man says. How can they be expected to work with professionals who have been shown to lie? How can men be trusted to implement positive change for LGBTQ students at Tully High School?
How can Superintendent Brannon Gaskins be trusted in Athens?
"We absolutely and unequivocally support our LGBTQIA+ community" is a lie. When Gaskins writes this, while refusing to discipline an employee who calls a "Gay is Good" poster a swastika, he demonstrates that he despises truthfulness itself. Like Superintendent Hughes in New York, he demonstrates that he cannot be trusted.
What is happening in Georgia right now is enough to make any honest person cry. But let's not stop there. Yesterday I reached out to Tyler to ask what he would say to students and community leaders in Athens.
Let's end with some of Tyler's powerful and positive words:
"I want the Georgian student whose work has been taken down to know that he is not alone and that being gay is actually not a problem as people claim. I also want them to know that even if it doesn't feel like it right now, it will get better and eventually things will change.
If I could have a conversation with this class, I would ask them to understand the importance of this issue and show their support for their classmate.
To community members pushing for accountability, don't give up. Whatever you do, don't give up. No matter how little you feel you are accomplishing, don't give up. I promise your work is needed. Holding these people in positions of power accountable is the first step to change and making sure it doesn't happen to anyone else again.
So please, for the sake of this student, former students, and future students, don't give up.
********************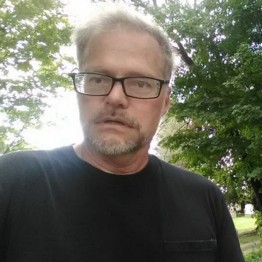 James Finn is a former Air Force intelligence analyst, longtime LGBTQ activist, alumnus of Queer Nation and Act Up NY, frequent columnist for LA Blade, contributor to other LGBTQ media and an "agent" but unpublished novelist. . Send questions, comments and story ideas to [email protected]
********************
The previous article was previously published by Prism & Pen – Amplifying LGBTQ voices through the art of storytelling and is republished with permission.