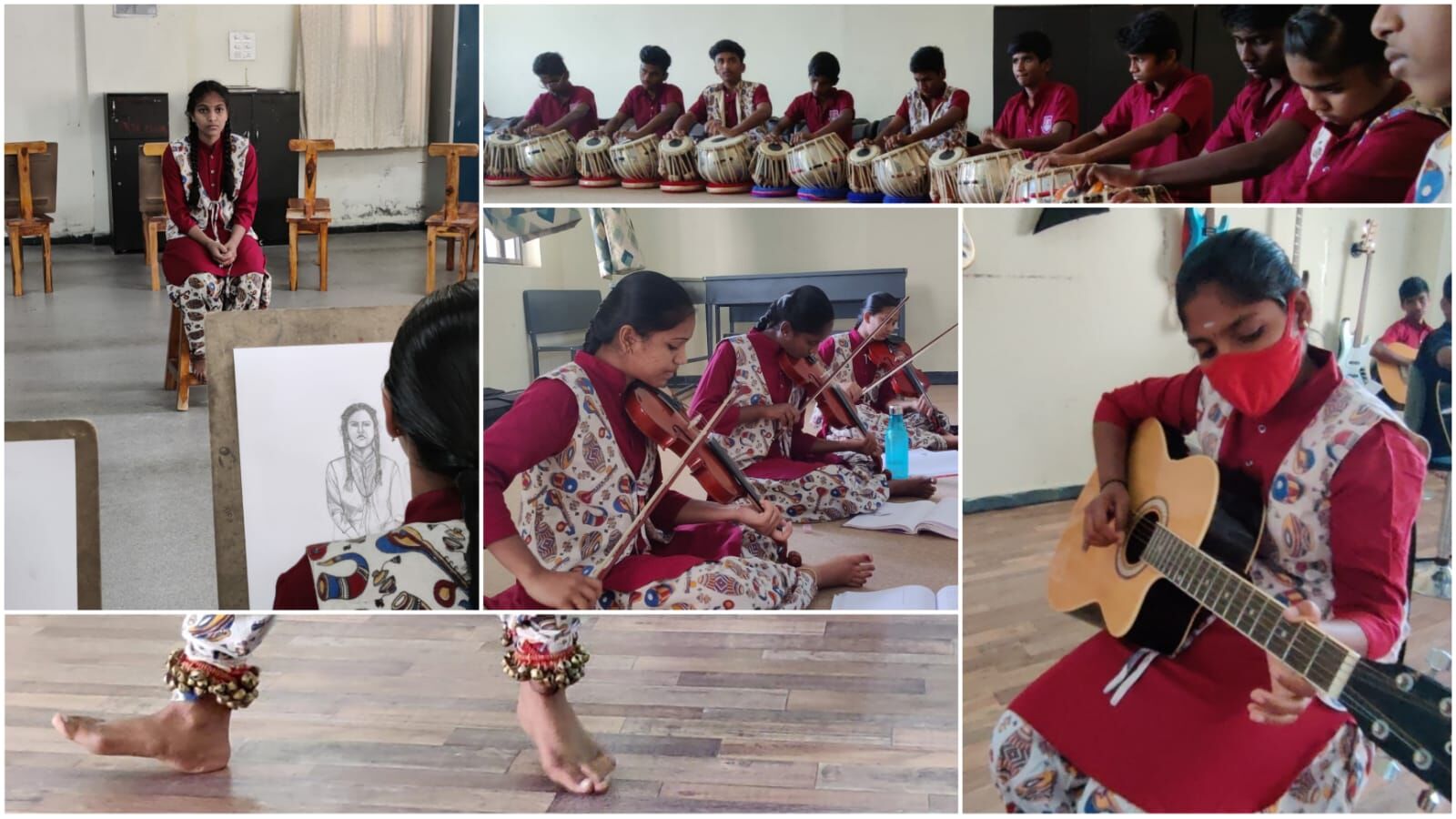 An institution that gives wings to children's dreams
Shivanand played the child version of the title character in the 2019 Telugu film 'Mallesham'. For a child prodigy, the role was a way to fulfill his wish to keep his mother happy and buy her lots of ornaments
A graduate of the Telangana Social Welfare Residential (TSWR) Fine Arts School in Malkajgiri, he played the role when he was in Class VII. At the time of casting, Shivanand had no formal acting training or certification. He is now in Class X at TSWR Fine Arts School.
"It was a proud moment for me. I never imagined seeing myself on the big screen. My parents were even happier and I don't know how to express my happiness," Shivanand said.
He hopes to embark on a serious career. He is a film technology student at school. His friends – Nikhil, Yellesh and Srilakshmi were also cast in the film alongside Shivanand in Mallesham.
A school for academics and the arts:
The TSWR School of Fine Arts is the first of its kind to serve disadvantaged and marginalized communities in the state. Spread over 9.5 acres, the school was established in 2017. It follows a very unique model of education. Here, students do more than just study; they sing, dance, play and do so much more.
In addition to math, social studies, science, etc., students can choose an art based on their interest in class VI. They are guided to get professional certification in the same.
The fine arts disciplines taught at the school include music (vocal and instrumental), dance (Kuchipudi and Kathak), painting and drawing, film technology, and theater arts. All of the 535 students in classes VI-XI of the Ecole des Beaux-Arts choose a Discipline of Fine Arts which is taught every day for three hours from 2 p.m. to 5 p.m. 71 students are enrolled in the Painting and Drawing course. 43 students learn Kathak. 50 students learn Kuchipudi, 27 students learn guitar, 37 students learn keyboard, 29 students learn tabla, 18 students learn Mrindangam, 19 students learn violin, 26 students learn Hindustani singing and 52 students learn Carnatic singing.
All the walls of the school are covered with vibrant murals drawn by the students.
Film Technology is the school's latest edition with 163 students. This discipline offers courses in directing, cinematography, screenwriting and acting. This discipline offers courses in directing, cinematography, screenwriting and acting. Prior to film technology, the school has theater arts. Now the two are combined.
Learning through movies:
Sarita, a class VIII student was explaining the many flaws she could identify in Telugu films. Sarita chose the directing course within the framework of the Film Technology discipline. "I think the antagonist hasn't been given enough importance in a lot of movies," she says.
Sarita watched movies for fun. "Since taking this course, I see the technical details and try to decipher what the director has to say in the film through visual art," she says.
Sarita recalls times when she didn't know how to write movie reviews. But now she can explain all the technical aspects of the film – cinematography, script, and more in a jiffy.
All Film Technology students see films of various genres and languages ​​as part of their curriculum. Saritha says she learned about politics, economics and various other subjects from movies.
Arts for Better Concentration in Academics:
Manju Latha Mandapakala, Consultant/Mentor – Department of Fine Arts, explains that the program has been designed in such a way that equal importance is given to academics and fine arts. "I have personally observed that students enjoy their three-hour fine art classes every day. Practicing various art forms helps them focus better on their studies," she says.
Manju Latha has helped design the fine arts curriculum since the school's inception. "The main goal of our school is to show students that fine art does not have to be a hobby. Therefore, we ensure that students receive certifications in their respective disciplines so that they have choosing to pursue a career in the fine arts," she says. .
TSWR School of Fine Arts Director V Jayanthi said there are only 80 places open each year for Class VI. An academic and skills test is conducted annually for admission. Most students opt for painting and drawing. "We provide all the support the children need so that they can balance studies and the fine arts. The children are on par in all subjects and have received several academic distinctions," she said.
"When the students join us in class 10, we teach them fine arts lessons for 3-4 years. We follow the curriculum of various music colleges. By the time the children are in class 9 or 10, they will be able to s sit for certification exams by renowned universities like Trinity College London, Sri Potti Sriramulu Telugu University, and many more," explained Manju Latha.
She added that by the time they complete Class X or Intermediate, students will have certifications in their respective discipline as well as academic board results.
Art as a means of subsistence:
V Charan, a painting student dreams of studying at Royal College London and becoming a professional artist. Charan began monetizing his skills by designing photo studios and drawing murals in his hometown.
"I barely remember having difficulty studying before I started art. But now I can concentrate better. For some reason, I think painting helped me focus on my studies," Sharan says.
He also placed second in the recent NTPC State Level competition.
Tabla player and Class VII student V Rajkumar earned Rs 30,000 during lockdown. "I charged 2000 rupees for every show I performed in my village and I performed in 15 of those shows. I come from a very poor background. So it was the first time my parents said so much money," he said. He said the knowledge he learned in school helped him perform, win and support his family during the pandemic.
Learn and teach:
Hasil Leon is a first generation guitarist from Khammam. A Class X student at TSWR Fine Arts School, Hasil had never touched or held a guitar before joining the school. He had only seen a guitar in movies and he was in love. Today, Hasil is also a guitar and drum expert.
Hasil obtained two degrees (music) and received certification from Trinity College London while continuing his studies at TSWR Fine Arts School. "I didn't even know how many strings a guitar had when I came to this school. I just knew I wanted to learn how to play it. Now I can play almost all my favorite movie songs," he says.
Sirisha, from Mahboobnagar, is only a class X student, but she already has four students in her village in Mahboobnagar district. Sirisha is an avid dancer from Kuchipudi and started teaching dance during the lockdown when classes were held online.